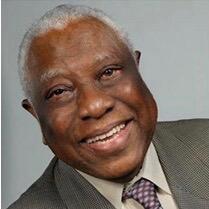 Woodie King Jr.
Founder of the New Federal Theatre
Born on Tuesday, July 27, 1937

Interviewed on: Thursday, October 23, 2014
Location: Primary Stages Offices
Interviewed by: Casey Childs
Interview #16
Photo Credit: Gerry Goodstein
"The Off-Broadway theatre was confined. It really began to focus on what American theatre needed, and that was the play."


Video Length: 5 minutes, 54 seconds

Woodie King Jr. Highlights

Video Length: 2 Hours, 19 Minutes

Woodie King Interview
Woodie King Jr. is the founder of the New Federal Theatre. The mission of the theater is to integrate minorities and women into mainstream American theatre. In 1970, the company began producing plays in the basement of St. Augustine's Church.  In 1974, they moved their production and training programs to the Henry Street Settlement's Louis Abrons Arts Center. Some of the plays produced by the Off-Broadway company were: FOR COLORED GIRLS WHO HAVE CONSIDERED SUICIDE/WHEN THE RAINBOW IS ENUF (1975), WHEN THE CHICKENS CAME HOME TO ROOST (1981), MR. UNIVERSE (1988), ROBERT JOHNSON: TRICK THE DEVIL (1993), CHECKMATES (1995), BLACK GIRL (1996), THE TAKING OF MISS JANIE (2006), SOWA'S RED GRAVY (2012), and THE FABULOUS MISS MARIE (2014). The New Federal Theatre won a Drama Desk Award for BLACK GIRL and a Drama Critics' Circle Award for THE TAKING OF MISS JANIE. In 1997, King was bestowed an OBIE Award for Sustained Achievement. He was also inducted into the American Theater Hall of Fame in 2011.
King grew up in Detroit, Michigan and began acting during his teenage years. He attended Will-O-Way School of Theatre and Wayne State University to pursue a degree in theater; while there, he became frustrated with the lack of opportunities for black actors in productions. Along with other students at Wayne State, he created Concept-East, a community-based black theater company. In 1964, he brought a touring production of Concept-East's STUDY IN COLOR to New York. He decided to remain in New York and went on to work with the American Place Theatre and Mobilization for Youth (a program which provided arts training for minority children). He established the New Federal Theatre in 1970 and the National Black Touring Circuit in 1974. The National Black Touring Circuit was founded to make existing black theatre productions available to a larger audience through touring colleges, black arts organizations, and resident professional theaters. Both organizations seek to promote the expansion and exposure of black theatre.
Mentioned in Interview
Wynn Handman, Henry Street Settlement, New Federal Theatre, Louis Abrons Arts Center, Concept-East, American Place Theatre, Mobilization for Youth, National Black Touring Circuit, FOR COLORED GIRLS WHO HAVE CONSIDERED SUICIDE/WHEN THE RAINBOW IS ENUF, STUDY IN COLOR