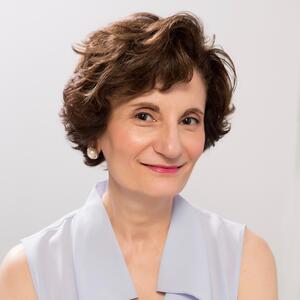 Virginia Louloudes
Executive Director of The Alliance of Resident Theaters/New York (A.R.T./New York)

Interviewed on: Tuesday, January 17, 2017
Location: at Her Office
Interviewed by: Casey Childs
Interview #88
Photo Credit: Jeremy Daniel

Video Length: 6 Minutes, 8 Seconds

Virginia Louloudes Highlights

Video Length: 2 Hours, 10 Minutes

Virginia Louloudes Interview
Virginia ('Ginny') Louloudes  is the Executive Director of A.R.T./NewYork (Alliance of Resident Theatres/New York).  She was born and raised in Bridgeport, Connecticut. Louloudes went to Johns Hopkins University for her B.A. in Humanities and to American University for her MA in Performing Arts Management. She furthered her education in the subscription office at Arena Stage, the National Endowment for the Humanities, and The (Richmond) Virginia Museum Theatre. Next, at the Hartman Theatre in Stamford, Connecticut, as Director of Marketing, she worked with Todd Haimes and Ed Sherin, and moved from there to the Manhattan Theatre Club in the same position. Several years after, Todd Haimes moved to the Roundabout Theatre, Louloudes joined him as Marketing Director.  Todd Haimes was also the President of A.R.T./New York in 1991 when the position of Executive Director became available and he had to abstain from the vote when it became time to select a new Executive Director. When he offered her the job as Executive Director of A.R.T./New York, he told her that "this is one of the strangest things I've had to do; I am offering you the job of Executive Director at A.R.T./New York, which is great for them; but I am losing you when we move to Broadway."
A.R.T./New York now has 360 not-for-profit member companies.  In addition they have three buildings in New York City: One in the west 30s (Spaces @ 520), two theatres in the west  50s (The A.R.T./New York Theatres), and one in Brooklyn (The LuEsther T. Mertz South Oxford Space). She was formerly a panelist for The National Endowment for the Arts (NEA) and uses her experiences 'on the other side of the table' to guide and nurture the development of the companies under her care.
Mentioned in Interview
Kevin Bacon, Gene Feist, Barry Grove, Todd Haimes, Lynne Meadow, Nancy Quinn, Lloyd Richards, Ellen Rudolph, Ed Sherin, Neil Simon, John Tillinger, August Wilson, Classic Stage Company, The Hartman Theatre, Manhattan Theatre Club, Roundabout Theatre Company LOOT, THE PIANO LESSON.