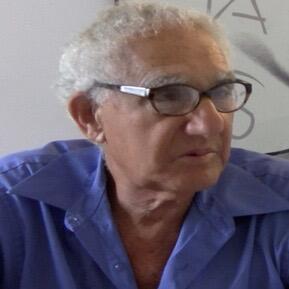 Robert Kalfin
Founder of the Chelsea Theater Center, Director

Interviewed on: Wednesday, July 9, 2014
Location: Primary Stages Offices
Interviewed by: Casey Childs
Interview #4

"As a director, my job is to empower colleagues and to be stretched by them in creative collaboration."


Video Length: 4 Minutes, 31 Seconds

Robert Kalfin Highlights

Video Length: 1 Hour, 15 Minutes

Roberrt Kalfin Interview
Robert Kalfin is the Founding Artistic Director of New York City's celebrated Chelsea Theater Center, which received 21 OBIE Awards over its 21 years as an active Off-Broadway company. The Center also received a Tony Award for CANDIDE (1973), a Chelsea production directed by Harold Prince that transferred to Broadway. In 2015, Kalfin received a Legend of Off-Broadway Award from the Off-Broadway Theater Alliance. His first Off-Broadway production, THE GOLEM (1959), was followed by THE GOOD SOLDIER SCHWEIK (1963). In 1965, the CTC company began its first season in the parish hall of St. Peter's Church in the Chelsea neighborhood. It moved to become the resident theatre company at the Brooklyn Academy of Music from 1968-1978, eventually transferring back into Manhattan, where it finally closed for lack of funding in 1986. Its legendary productions, such as SLAVE SHIP (1969), THE SCREENS (1971), and THE PRINCE OF HOMBURG (1976), with Frank Langella, later seen on PBS's "Great Performances: Theater in America" series), are chronicled in the book "Chelsea on the Edge," by Davi Napoleon.
Kalfin's multimedia staging of KADDISH (1972) transferred from Chelsea to an Off-Broadway commercial run at Circle in the Square. His productions of YENTL (1975) with Tovah Feldshuh, HAPPY END (1977) with Meryl Streep and Christopher Lloyd, and STRIDER: THE STORY OF A HORSE (1979) moved from Chelsea to Broadway. Another of his stagings, Truly Blessed: A Musical Celebration of Mahalia Jackson (1990) came to Broadway from Ford's Theater in Washington, D.C. Some of his Off-Broadway directing credits include: RASHOMON and THE MISTRESS OF THE INN (1988) for the Roundabout Theatre Company, BAFO (BEST AND FINAL OFFER) (1998) for The American Place Theatre, OUTWARD BOUND (2005) for the Keen Company, A STONE CARVER (2006), which transferred from the Passage Theater Company, THE SHANGHAI GESTURE (2009) for Mirror Rep, and A BRUSH WITH GEORGIA O'KEEFE and MARIE ANTOINETTE: THE COLOR OF FLESH (2009) playing in alternating rep.
Mentioned in Interview
Chelsea Theater Center, St. Peter's Church, BAM