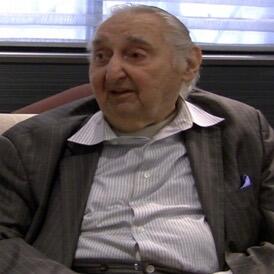 Fyvush Finkel
Actor, Comedian
Born on Monday, October 9, 1922
Died on Sunday, August 14, 2016

Interviewed on: Wednesday, July 16, 2014
Location: His Home
Interviewed by: Allen Lewis Rickman
Interview #6

"The audience that visits you downtown, they're so warm. If they like you, you're made."


Video Length: 4 Minutes, 26 Seconds

Fyvush Finkel Highlights

Video Length: 1 Hour, 2 Minutes

Fyvush Finkel Interview
Beginning at the age of nine, Fyvush Finkel worked for almost 35 years as a performer for various productions in the Yiddish Theatre District of Manhattan's Lower East Side. Yiddish theatre encouraged its audience members to unite both the American and Jewish worlds through the work of Jewish playwrights and actors. He also performed as a standup comedian in the Catskills' Borscht Belt. He replaced Hy Anzell as Mr. Mushnik in the Off-Broadway production of LITTLE SHOP OF HORRORS (1982). In 1988, he also performed as Sam in the New York Shakespeare Festival's revival of the Yiddish classic CAFÉ CROWN. Finkel's portrayal of Sam in CAFÉ CROWN earned him an OBIE Award and a Drama Desk nomination.
In addition to Off-Broadway, Finkel has worked on Broadway and in television and film. In 1965, he made his Broadway debut as Mordcha in the original Broadway production of Fiddler on the Roof. He also portrayed Lazar Wolf in the 1981 Broadway revival and Tevye in the national touring company. In 1994, he earned an Emmy Award for his role as Douglas Wambaugh on the television series "Picket Fences." He was nominated for a Screen Actors Guild Award for the film Nixon (1995). He was also nominated for a Boston Society of Film Critics Award for A Serious Man (2009). His most recent Off-Broadway theatre credits include Classic Stage Company's NEW JERUSALEM (2007) and the National Yiddish Theater-Folksbiene production of FYVUSH FINKEL LIVE! (2010).
Mentioned in Interview
Ludwig Satz, Eli Mintz, Luther Adler, Joseph Papp, Shalom Aleichem, Yiddish Art Theatre, The Parkway Theatre, NYSF/The Public, Classic Stage Company, WHO'S GUILTY, GOOD LUCK, FINKEL'S FOLLIES, NEW JERUSALEM, LITTLE SHOP OF HORRORS, CAFÉ CROWN, HARD TO BE A JEW