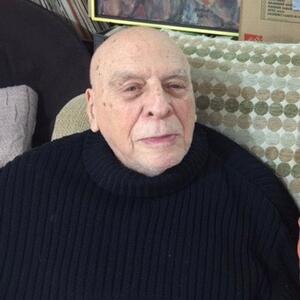 Rene Buch
Co-Founder Repertorio Espanol, Director, Playwright

Interviewed on: Wednesday, January 11, 2017
Location: at His Home
Interviewed by: Casey Childs
Interview #87

"I was living in New York and everyone was asking me to become an American citizen and I wouldn't think of it…because I didn't want to lose my Cuban citizenship…Fidel suddenly made a speech saying he had always been a Marxist/Leninist…I became an American Citizen the following day."


Video Length: 4 Minutes, 1 Second

Rene Buch Trailer

Video Length: 50 Minutes, 37 Seconds

Rene Buch Interview
Rene  Buch is a Cuban playwright and director who co-founded, with Gilberto Zaldivar the Greenwich Mews Spanish Theatre in 1969. They produced Calderon's LA DAMA DUENDE in Spanish,  establishing  their  dream of a Spanish language classical theatre for a Spanish speaking audience. In 1971, designer Robert Weber Federico joined them and the company was renamed Repertorio Espanol.  Mr. Federico runs it today. Not only are the plays in Spanish and English, but Repertorio  supports  a repertory company doing different plays in weekly rotation year-round.  They are the first Spanish company to represent the United States touring the United States, Latin-South  America  and Spain.
Born in Santiago, Cuba, Buch was the Founder and Director of Pro Arte de Oriente's Theatre Department and Havana's  Accion Teatral de Autores. At ATA he produced new works by Cuban playwrights. He got a Law Degree from Havana University before coming to the United States and getting an MFA degree from the Yale School of Drama. He taught Spanish language and literature at Yale while a student and worked for the Radio and Television Department at The United Nations where he was editor of The United Nations Journal Spanish Edition. As Associate Editor at Vision Magazine and Editor of The Arts for The Latin American Times, he wrote about music, theater, film, art and literature. He was a book editor for Reader's Digest in Mexico City. He received Spain's The Order of Isabelle the Catholic for bringing Spanish culture to the world. He has served on the panels of the National Endowment for the Arts, New York State Council on the Arts, The Village Voice OBIE Awards Committee and the Independent Committee on Arts Policy and Theatre Communications Group.  In 2011 he received a Lifetime Achievement OBIE Award.
Mentioned in Interview
Gilberto Zaldivar, Robert Weber Federico, Mateo Gomez, Ofelia Gonzalez, Tallulah Bankhead, Eduardo Machado, Repertorio Espanol, DEL AQUA DE LA VIDA, ROMEO Y JULIETA, WHO'S AFRAID OF VIRGINIA WOOLF?, DON JUAN, HABANA:ANTOLOGIA, HUEVOS ROTOS, LA STRADA, EL PUBLICO,EL BURLADOR DE SEVILLE, THE HOLLOW SHELL, LA DAMA DUENDE, THE GLASS MENAGERIE